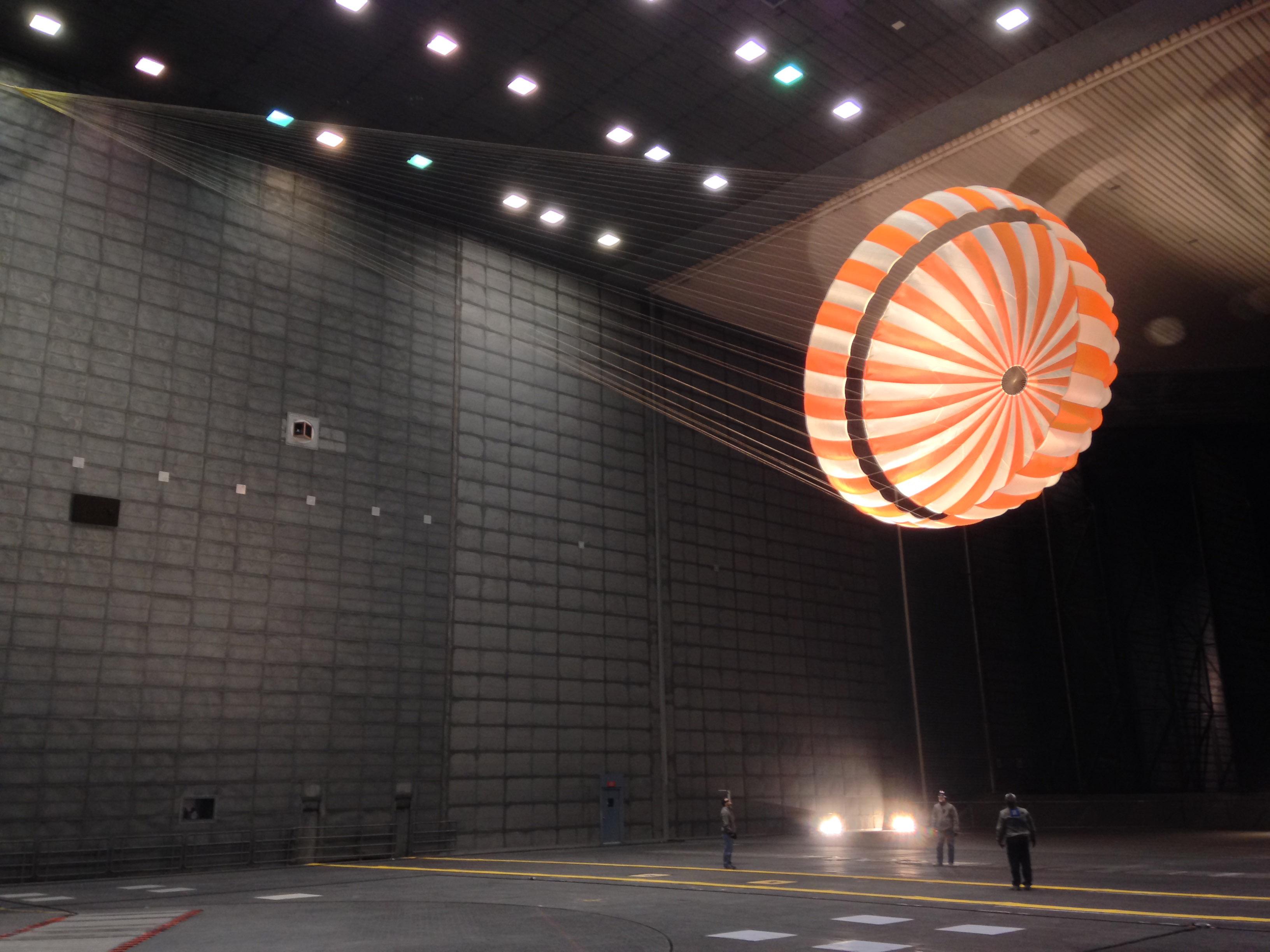 (Testing done in wind tunnel by Airborne Systems)
John Bazin,'10, is a Mechanical Engineer for Airborne Systems in Santa Ana, California. The project of the company at this moment is designing a parachute for the Mars 2020 Exploration mission. He talked about his life and career with Rockhurst students this past week.
While at Rockhurst, Bazin worked on cars as a mechanic outside of school which he thought he would continue to do after high school.While preparing himself to graduate from Rockhurst, John found himself not knowing what to major in. He had decided to get a degree in mechanical engineering since it could be used in multiple jobs.
Bazin was offered two jobs upon graduation of University of Missouri-Kansas City: one at Ford and one at Airborne Systems. Bazin had always thought that he would continue as a mechanic and take the job with Ford, but he acted on his gut feeling and took the job at Airborne Systems. Even though it was a bit of a pay cut, Bazin liked the location of Airborne Systems in California and thought that it would be more intriguing.
Airborne Systems is a company built around innovative designs for parachutes. The company focuses on different tythe pes of parachutes that can be used for multiple things such as military use, cargo and personnel delivery, and also large spacecraft deceleration systems. Bazin is part of a team of engineers focusing on a parachute for the Mars 2020 mission. NASA gave the company a nine-million-dollar contract in order to design, build, and test different parachutes that will guarantee a successful landing on Mars.
Bazin talked about his accomplishments and  how he was glad he got a degree in mechanical engineering. Junior Abraham Mun sat in on the talk with Mr. Bazin. "I am really glad he came to talk to us about what he is doing. I didn't realize how mechanical engineering could apply to multiple types of jobs." Mun said.
Bazin talked about multiple tests the team ran through such as putting the parachute into a wind tunnel to see how it would act. "I was really intrigued with the photos Mr. Bazin used to show us the wind tunnel they tested the parachute in," Junior Philip Ehrnman said. "The tunnel was huge, and it had four forty-foot tall fans." Airborne Systems has finished the final parachute and they are working on the shipping process to NASA where it will sit until it is sent into space.